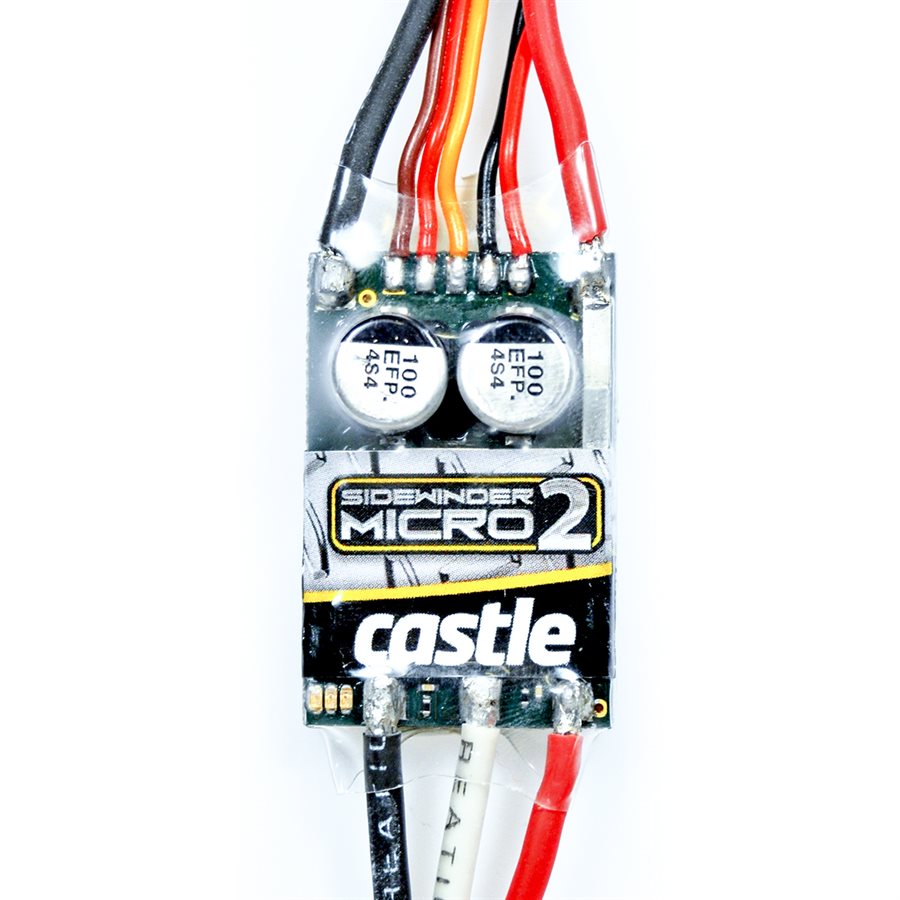 Castle Creations Sidewinder Micro 12.6V ESC, 2A Peak BEC
Castle Creations Sidewinder Micro 12.6V ESC, 2A Peak BEC
Key Features
2S and 3S LiPo Compatible
Waterproof Design
2Amp Peak BEC
Castle Link Tuning
Overview
The Sidewinder Micro, our popular affordable Micro controller, now boasts all new updated circuitry and added functionalities. At Castle, our engineers are committed to taking full advantage of advancements in component quality and continuous improvements in software design. As a result, we are thrilled to introduce the Sidewinder Micro 2. The Sidewinder Micro 2 is perfect for 1:18th scale 2WD vehicles and smaller 4WD (up to 2 lbs.)
Designed for 1/18th
Whether you are converting to a brushless setup or simply needing more power than your current brushless power system is putting out, we have a combination to fit your needs. The Castle 20mm 0808 Brushless Motors are a perfect companion to the Sidewinder Micro 2 and are available in 4100Kv, 5300Kv, or 8200Kv packages. (sold separately).
Improved BEC Functionality
Now adjustable: 5.5V or 7.5V
Improved Audible Alerts
The ability to diagnose and resolve problems in the field are made easy as this ESC will communicate with audible tones when certain conditions are present. Alerts are present for start fail, voltage cutoff, radio glitch, over-temperature, over-current and excessive load detections.
Improved Startup
Updated circuitry and refined software makes for ultra-smooth starts!
Link Live functionality added
Link Live is a way for the controller to communicate power system information to an external device. This feature, when enabled, will allow users to experience real-time telemetry data such as battery voltage, ESC temperature, motor power output and battery ripple. (Requires purchase of Castle S.BUS2 Telemetry Link)
Transmitter Programming
Manual programming settings include Brake/Reverse Type, Voltage Cutoff, Brake Amount, Drag Brake and Motor Type.
Castle Link Programming
With the purchase of Castle Link USB device, you will have access to the full programming suite of adjustable settings that tune and tweak your vehicle to your preferences, resulting in an incredible driving experience!
Firmware Updates
With the purchase of Castle Link USB device, you will have access to all firmware updates, including added feature sets released from Castle Engineering at no charge.
---
---
More from this collection