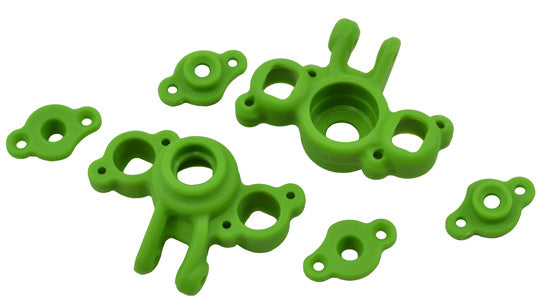 RPM 73164 Axle Carriers for 1/16 e-Revo, Slash, Summit & Rally - Green
73164 

RPM Axle Carriers for 1/16 e-Revo, Slash, Summit & Rally - Green

There is very little that can be as frustrating on an R/C vehicle as slop in the suspension system. In the case of the 1/16th scale mini E-Revo and mini Slash, there is absolutely no slop adjustment for the suspension pivot balls. Once the axle carriers begin to wear at those balls, the camber, toe and caster angles don't stay true, causing the vehicle to wander, making it very difficult to control.

That is where RPM steps in. Our new 1/16th scale mini E-Revo and mini Slash Axle Carriers have a unique pivot ball retention system that locks the pivot ball in place, yet still allows for adjustment due to wear. Our system is based on a cap design, held in place with a pair of small screws. Simply slip the caps in place, tighten the flathead screws until the free play of the pivot ball is eliminated and you're ready to go!

RPM Axle Carriers have been completely redesigned for added durability and crash-survivability. RPM engineers found that the stock pivot ball opening could be reduced in size to help support the pivot ball better, meaning a significantly lower chance of pulling the ball through the hole. The redesigned overall shape and superior materials that go into our version make them the best alternative at the lowest price available! And to top it off, RPM axle carriers are marginally lighter than the stock versions!

RPM Axle Carriers for the 1/16th scale Traxxas mini E-Revo and mini Slash are molded in four color options - black, green, blue and red, perfectly matching our already well-known and respected set of mini E-Revo A-arms. Designed, manufactured and molded right here in our facility in sunny Southern California! At RPM, we bring pride to the expression "Made in the USA"!

Quick Notes:
fits all versions of the 1/16 scale Slash and Revo
replaces stock Traxxas #7034
sold in pairs (two sets will be needed to complete one full vehicle)
requires a 0.05" or 1.25mm hex wrench (not included) for installation.
---
---
More from this collection