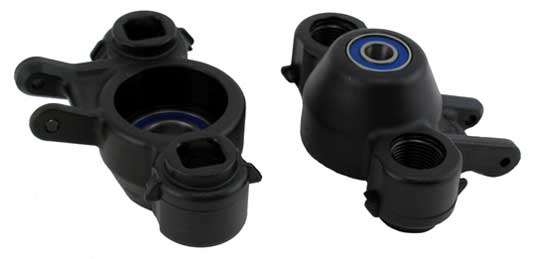 80582 RPM Axle Carriers & Oversized Bearings (Black) (Revo/Slayer) (2)
RPM axle carriers for the Traxxas Revo, Slayer, T-Maxx 2.5R & 3.3 and newer versions of the E-Maxx have been painstakingly redesigned to improve the durability, strength, and reliability of these much-abused parts. Check out this laundry list of features built into each set of RPM Revo carriers:
Axle Carriers:
Stock replacement - no modifications are needed to bolt them in.
Larger bearing bores accept RPM oversized bearings.
Included in each kit are two 15mm bearings and two 21mm bearings.
The wall thickness around the pillow-balls has been increased by 40% - eliminating split walls!
More than 20% more material supports the pillow-balls, preventing them from pulling through.
Redesigned reinforcing rib supporting the tie rod mount.
Redesigned boot lock tabs making removal of the silicone boots easier.
Press-fit bearings in the carrier means reduced movement of the axle in the carrier.
Oversized Bearings:
Outer bearings are 6x15x5mm (stock is 6x12x4mm).
Inner bearings are 12x21x5mm (stock is 12x18x4mm).
Wider bearings create an additional 2mm of contact with the axle for smoother, longer running performance.
3mm. larger bearings have balls a full 33% larger than stock!
The load ratings of RPM oversized bearings are double that of stock bearings and more than triple the fatigue rating of stock bearings as well!
Pillow-Ball Setscrews:
Two-piece design uses aluminum and Delrin for the ultimate in holding power under extreme situations.
Our aluminum setscrews reduce movement of the pillow-balls in the carrier.
Our Delrin bushing caps have more than twice the contact area on the pillow-ball, keeping the pillow-balls locked in place at all times.
What's Included: RPM Revo axle carriers are sold with 1 left and 1 right axle carrier, 2 outer 15mm bearings, 2 inner 21mm bearings, 4 aluminum setscrews, 4 Delrin bushing caps, and detailed instructions to help install them on your truck. TWO packages will be needed to complete one vehicle (unless used with the RPM True-Track Rear End Conversion, then one package is all that is needed).
Tech Notes: Due to increased material to support the pillow balls from pulling through the carrier, RPM Revo Axle Carriers will not work in conjunction with 120-LT Long Travel rockers (Traxxas #5356). RPM Axle Carriers will not work on the E-Revo 2.0.
Quick Notes:
replaces stock Traxxas #5334
includes massive oversized bearings!
fits all Revo, e-Revo & Slayer trucks (except the E-Revo 2.0)
fits all modern T-Maxx and E-Maxx trucks running stock 5451X axles (older model T-Maxx & E-Maxx owners see here)
will not work with 120-LT Long Travel rockers - Traxxas #5356
matching rear Revo True-Track Kit available
matching rear T/E-Maxx True-Track Kit available
---
---
More from this collection