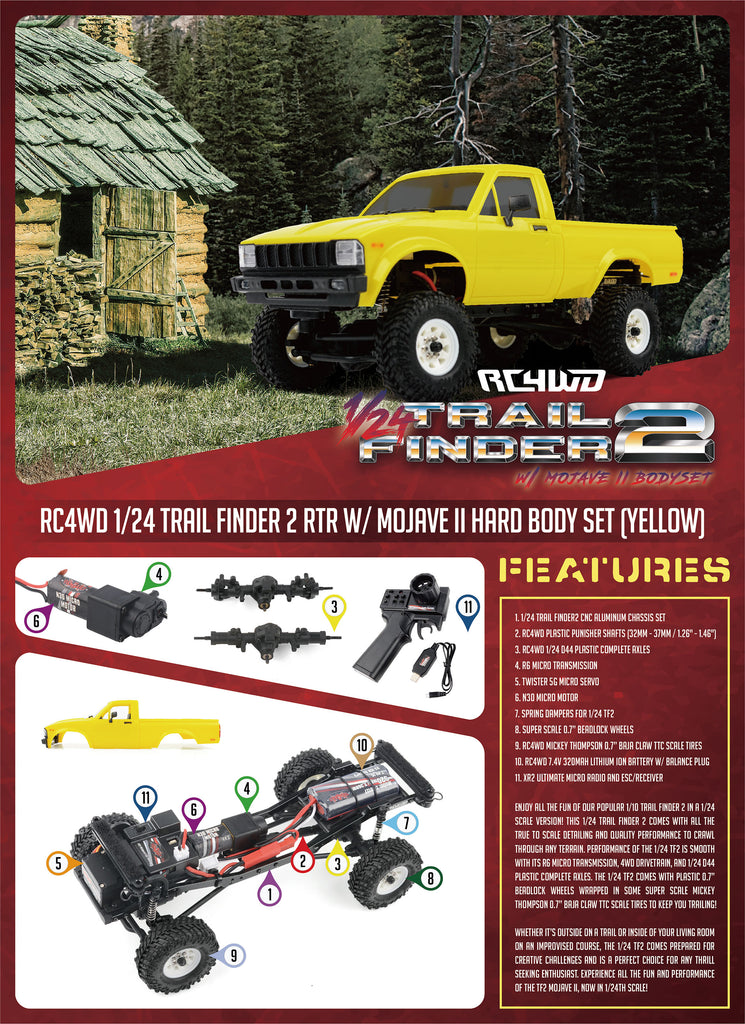 RC4WD 1/24 Trail Finder 2 RTR w/ Mojave II Hard Body Set - Yellow
RC4WD 1/24 Trail Finder 2 RTR w/ Mojave II Hard Body Set Yellow
Enjoy all the fun of our popular 1/10 Trail Finder 2 in a 1/24 scale version! This 1/24 Trail Finder 2 comes with all the true to scale detailing and quality performance to crawl through any terrain. Performance of the 1/24 is smooth with its R6 Mini Transmission, 4WD Drivetrain, and 1/24 D44 Scale Axles, the 1/24 TF2 comes with Plastic 0.7" Beadlock wheels wrapped in some super scale Mickey Thompson 0.7" Baja Claw TTC Scale Tires to keep you trailing!
Whether it's outside on a trail or inside of your living room on an improvised course, the 1/24 TF2 comes prepared for creative challenges and is a perfect choice for any thrill seeking enthusiast. Experience all the fun and performance of the TF2 RTR, now in 1/24th scale!
1/24 Trail Finder2 CNC Aluminum Chassis Set
RC4WD Plastic Punisher Shafts (32mm - 37mm / 1.26" - 1.46")
RC4WD 1/24 D44 Plastic Complete Axles
Spring Dampers for 1/24 TF2
Super Scale 0.7" Beadlock Wheels
RC4WD Mickey Thompson 0.7" Baja Claw TTC Scale Tires
RC4WD 7.4V 320mAh Lithium Ion Battery W/ Balance Plug
XR2 Ultimate Micro Radio and ESC/Receiver
All New R6 Micro Transmission
Internal Gear Ratio: 1.15:1
Gear Material: Hardened Brass and Steel
Case Material: Strong Durable Nylon
All New 1/24 D44 Plastic Complete Axles
Case Material: Strong Durable Nylon
4 Link Front and Rear Suspension
Type: OEM Plastic 0.7" Beadlock Wheels (White)
1/24 TF2 Truck Dimensions
Wheelbase: 120mm

Final Drive Ratio: 2.67:1
Weight: 0.44lbs/0.2kg
The 1/24 TF2 chassis features a simple front mounted electronics plate for easy mounting of the XR2 Micro ESC/Receiver combo.
This RC suspension has a 4 link front and rear setup, allowing for some impressive shock absorption. These coil over shocks deliver the balanced driving needed for terrain stability!
The RC4WD 1/24 Trail Finder 2 Chassis is comprised of CNC machined aluminum chassis rails, forming a rigid platform. The suspension mounts and cross members are outfitted for durable capabilities.
The 0.7" Beadlock wheels are assembled with scale hex bolts and are mounted to officially licensed Mickey Thompson Baja Claw tires. With that vintage look and pristine handling, this combo is a retro, rough ready setup.
Smaller in size, this RC Truck was built to deliver a true 1/24 scale driving experience by compacting the popular setup of the bigger 1/10 TF2.
The 1/24 Mojave II Hard Body Set comes in 3 colors, atomic blue, radiant red or electric yellow. Pick your favorite or personally customize the paint anyway you want!
The 1/24 Mojave II Hard Body Set includes pre-painted tail lights and side marker lights, adding more realism. An LED light kit is also separately available for bright, night trailing fun!
The 1/24 Mojave II Hard Body Set interior comes molded from durable, hard plastic and simulates the inside look of a full-scale truck cab with sculpted vents, shift knobs, door handles and steering wheel.
The molded square headlights, black bumpers and pre-painted grille provide a subtle, alternative appearance, compared to the chrome detailing of the 1/10 scale model.
The 1/24 Trail Finder 2 comes ready for your next scale adventure with a paired, quality 2-in-1 Micro ESC + Receiver and XR2 Micro Radio system.
With realism and toughness in mind, the R6 Micro Transmission comes equipped with steel transfer case gears mated to the same gear box used in our Warn Winch product line. The transmission case is molded from reinforced nylon to provide a sleek, realistic appearance.
A great truck needs a great servo and the 1/24 Trail Finder 2 RTR features the Twister 5G Micro Servo that comes ready for a range of steering duties!
Get ready because the RC4WD 1/24 D44 Plastic Complete Front and Rear Axles are made from the same trusted material as the 1/10th scale, so expect a heavy duty, maneuverable set. The state of the art front XVD axle features all steel components. The micro D44 axles are fortified with some of the strongest materials out there and coupled with steel ring and pinion gears, front and back. To put it lightly, this RC axle is packing some solid, compact agility.
The Driveshafts for the 1/24 Trail Finder 2 feature fiber-reinforced universals and a high quality shaft for great driveline angles and durability on the trail.
1x RC4WD 1/24 Trail Finder 2 RTR W/ Mojave II Hard Body Set (Yellow)
---
---
More from this collection