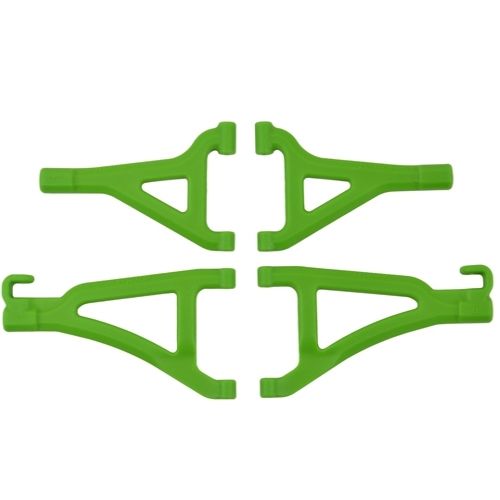 RPM Front A-arms for the Traxxas 1/16 E-Revo - Green
RPM Front A-arms for the Traxxas 1/16 E-Revo - Green
Upon the release of the Traxxas 1/16th Scale Mini E-Revo, we immediately started receiving requests for durability upgrades. What better place to start than the front A-arms? With our guaranteed unbreakable material and a proven A-arm design based off of our larger, 1/10th scale Revo A-arms, durability for these little monsters has arrived!
A siginificant problem we have been able to eliminate was slop in the suspension system. In some cases, we found as much as 1/32" of slop in the stock A-arms! That has been remedied with these new RPM versions. Our A-arms eliminate nearly all of the A-arm slop, which allows camber, caster and toe angle settings to be more solidly fixed in position. The result: A smoother, more consistent steering and suspension system with a significantly reduced tendency for the truck to randomly wander while driving.
Unique to RPM suspension arms is our angled leading and trailing edges. We incorporate a 30-degree bevel in these areas, which reduces the chance of breaking suspension parts since the A-arm will naturally try to transition over objects instead of bluntly plowing into them.
RPM front A-arms for the Traxxas Mini E-Revo are sold in sets of four - both upper and both lower a-arms. What's best is these miniature E-Revo A-arms, like all RPM molded products, are backed by our industry-leading breakage warranty. If it breaks (under normal operating conditions), send it in and we'll replace it!
Quick Notes:
replaces stock Traxxas #7131

matching Rear A-arms available

matching Axle Carriers available
---
---
More from this collection