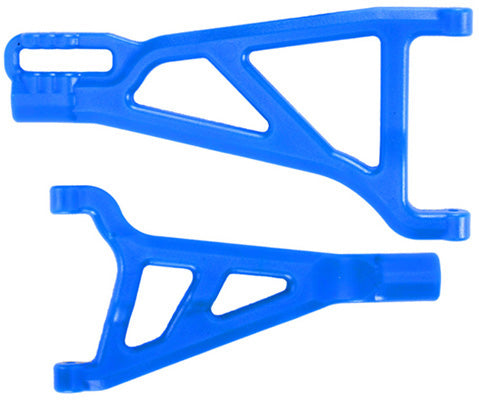 RPM Traxxas Revo/Summit Front Left A-Arms - Blue
RPM Traxxas Revo/Summit Front Left A-Arms - Blue
RPM Revo A-Arms are the only alternative to bulletproof performance that rivals any competition! Check out this laundry list of awesome features:
Nearly identical in weight to stock A-Arms.
Redesigned for incredible durability under the toughest of conditions.
More wear resistant than any other material available.
Excess A-arm end-play has been eliminated for more accurate caster and toe angle settings.
Angled leading and trailing edges eliminate dirt build-up.
No low-hanging cross-braces or shock mounting areas providing better ground clearance.
Massive shock rod mounting areas for improved rigidity.
Available in black & blue.
Less than half the price of aluminum A-arms.
Molded from our bulletproof blend of nylons and backed by our world renowned breakage warranty.
Sold in sets of one upper and one lower A-arm.
Quick Notes:
fits the Traxxas Summit, Revo & E-Revo
replaces stock Traxxas #5331
matching Front Left A-arms also available
matching True-Track Rear End Conversion Kit available (for the Revo & E-Revo)
---
---
More from this collection